American Standard 707AA101.020 Optum VorMax Complete Right Height 2-piece 1.28 GPF Elongated Toilet in White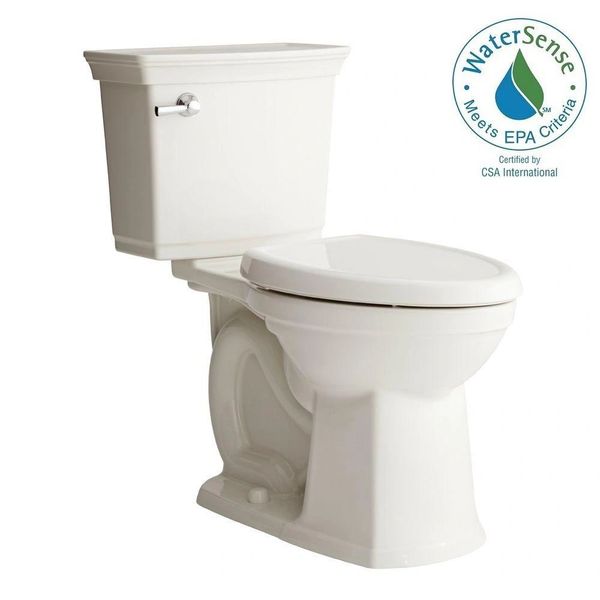 American Standard 707AA101.020 Optum VorMax Complete Right Height 2-piece 1.28 GPF Elongated Toilet in White
LWAYS BELOW HALF PRICE!!!
THIS American Standard 707AA101.020 Optum VorMax Complete Right Height 2-piece 1.28 GPF Elongated Toilet in White, IS NEW NEVER BEEN USED. COMES IN ITS ORIGINAL BOX.
MSRP: $375.27
Description:
VorMax flushing technology is the solution to maintaining a cleaner toilet bowl by simply flushing the toilet. Its revolutionary VorMax flushing system completely cleans the entire bowl, including under the rim. The VorMax flushing technology has been independently tested and proven to CLEAN 2X BETTER than conventional toilets. This helps maintain a tidier toilet bowl longer, so cleaning is a breeze. Source: Test witnessed by IAPMO R&T Labs comparing VorMax against conventional under-the-rim-water-dispersal toilets from major retailers.
Includes decorative slow close seat that features a seamless, concealing lid and EverClean surface which helps keep the seat cleaner longer
Optum VorMax flush technology cleans 2x better than conventional toilets
VorMax flush technology delivers a powerful jet of water that scrubs the bowl clean from top to bottom, removing everything in its path
CleanCurve rim design eliminates hidden, hard-to-reach surfaces where dirt and buildup hide
EverClean surface is super smooth and easier to keep clean, even after years of use; plus, the permanent EverClean antimicrobial surface inhibits the growth of stain and odor causing bacteria on the surface
Industry-leading flush technology saves water without losing performance. It uses just 1.28 GPF, a 20% savings compared to 1.6 GPF toilets; a 20% savings in water usage translates to money saving
Comfortable right height, elongated bowl is ADA compliant which can help make getting on and off of the toilet easier
Easy installation. Complete toilet includes everything you need for installation, including the seat and wax ring
Features dual-injection flush valves that open almost simultaneously, delivering water to the bowl in two ways, to the jet hole for a powerful vortex scouring action in the bowl and to the trap way to create the siphon which disposes of all the waste
Superior waste removal with a 2-1/16 in. smooth fully glazed trap way outlet
Chrome handle
100% factory flush tested.
Bowl Height: Chair Height
Included: Complete Kit,Handle,Seat
Bowl Shape: Elongated
MaP Performance Rating: 1000
Material: Vitreous China
Color/Finish: White
Mount Location: Floor Mount
Commercial / Residential: Residential
Features: Antimicrobial
Flushing Mechanism: Gravity Flush
Rough In Size: 12
Flushing Technology: Gravity Fed
Trapway Diameter (in.): 2.12
Flushing Type: Single Flush
Trip Lever Location: Left Front
Gallons Per Flush: 1.28
Bowl Height without Seat (in.): 16.5
Flush Valve Size (in.): 3.5
Dimensions: 30.63"D x 30.75"H x 18.00"W
Weight: 92 lbs
"CREDIT CARDS ARE ACCEPTABLE".
AVAILABLE AT: DEE PEE DISCOUNT STORE
STORE HOURS: 10AM - 8PM
DAYS : MONDAYS - SATURDAYS
SUNDAYS: 12PM - 6PM
CONTACT: STORE PH : 9724799816
STORE WARRANTY: 30 DAYS
AVAILABLE: 1
Reviews