Bootz Industries 011-2302-00 Kona 4-1/2 ft. Right Hand Drain Soaking Tub in White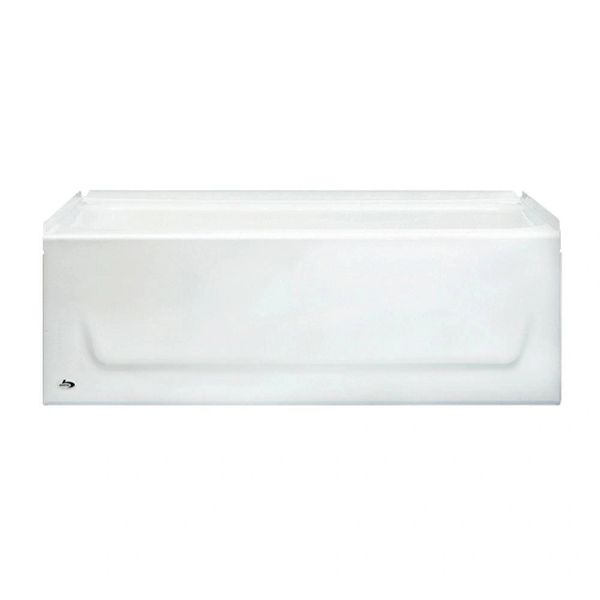 Bootz Industries 011-2302-00 Kona 4-1/2 ft. Right Hand Drain Soaking Tub in White
ALWAYS BELOW HALF PRICE!!!
THIS Bootz Industries 011-2302-00 Kona 4-1/2 ft. Right Hand Drain Soaking Tub in White, IS NEW NEVER BEEN USED. COME'S IN IT'S ORIGINAL BOX.
MSRP: $350.00
Description:
The Kona 4-1/2 ft. Right Drain Bath Tub in White offers a compact, space-saving design. The porcelain on steel construction provides a long lasting durable finish. The Kona is ideal in applications where space is at a premium.
The Kona 4-1/2 ft. bath tub is made of a one piece durable construction for an easy customer friendly DIY installation. The Kona is lightweight and easy to set and level
The Kona has an attached support/leveling pad that saves time and money, less materials - no mortar required
The Kona is flameproof porcelain and is immune to open flames. The porcelain enamel finish is colorfast to maintain its original color and high gloss
The Kona offers a timeless shape and beauty that goes with any faucet or tile combination
Floor is slip-resistant to promote safety.
Color Family: White
Material: Porcelain-Enameled Steel
Color/Finish: White
Maximum Number of Occupants: 1
Drain Location: Right
Exterior bath shape: Rectangle
Tub Installation Type: Farmhouse/Apron-Front
Faucet mount: Wall
Tub/Shower Features: Built-In Flange,Slip-Resistant Tub
Included: No additional components or accessories are included
Water capacity (gallons): 34
Dimensions: 9.25"D x 54"L x 15"H x 30"W
Weight: 70 lbs
"CREDIT CARDS & PAYPAL ARE ACCEPTABLE".
AVAILABLE AT: DEE PEE DISCOUNT STORE: - 580 W Arapaho road suite 298 Richardson TX 75080
STORE HOURS: 10AM - 8PM
DAYS : MONDAYS - SATURDAYS
SUNDAYS: 12PM - 6PM
CONTACT: STORE PH : 9724799816
STORE WARRANTY: 30 DAYS
AVAILABLE: 1
Reviews