Breville BOV845BSS Smart Oven Pro Convection Toaster Oven with Element IQ, 1800 W, Stainless Steel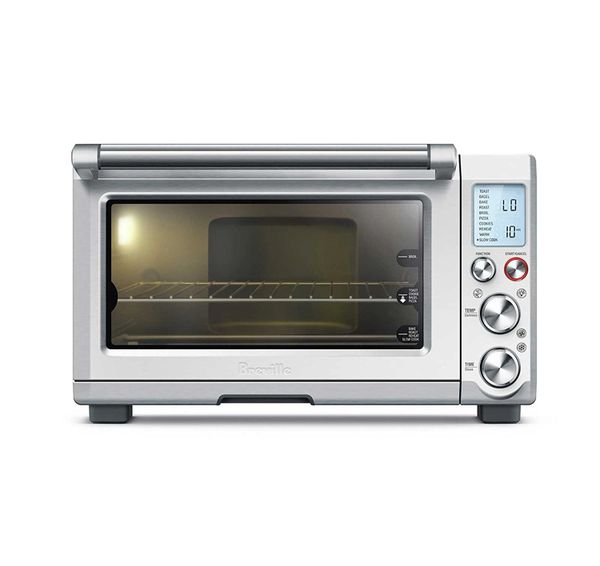 Breville BOV845BSS Smart Oven Pro Convection Toaster Oven with Element IQ, 1800 W, Stainless Steel
"MAXIMIZE YOUR DISCOUNT"
THIS Breville BOV845BSS Smart Oven Pro Convection Toaster Oven with Element IQ, 1800 W, Stainless Steel, IS NEW NEVER BEEN USED. COME'S IN IT'S ORIGINAL BOX.
MSRP: $269.95
Description:
The smart oven Pro with element IQ is an essential tool for the cook who desires a countertop oven that bakes the perfect pizza pie, crispy yet chewy cookies, toasts evenly and roasts succulent meat. The convection setting reduces cooking time by up to 30%. with element IQ - 5 independent quartz heating elements move the power where it's needed most, above and below the food. Each element adjusts automatically for the setting you choose, to deliver the right cooking temperature at the right time ensuring the precise cooking process for the meal you are creating. Voltage -110 -120 volts , Power - 1800 watts.
Feature: Height - 11, Construction - Stainless Steel, Controls - 10 Preset Functions, Color - Stainless Steel, Weight - 22, Electric-Power-Supply - Cord, Cable Series - BOV845BSS, Programmed - 10 Presets, Width - 18.5, Depth - 15.75, Power Output - 1800 W, Appliance Type - Toaster Ovens, Container Capacity - 0.8 Cubic Feet
Capacity: 0.8 cu ft
Material: Stainless Steel
Color: Silver
Dimensions: 15.75"D x 11"H 18.50"W
Weight: 22.8 lbs
"CREDIT CARDS & PAYPAL ARE ACCEPTABLE".
AVAILABLE AT: DEE PEE DISCOUNT STORE: - 580 W Arapaho road suite 298 Richardson TX 75080
TO MAXIMIZE YOUR DISCOUNT VISIT US @ WWW.DEEPEEDISCOUNTSTORE.COM
STORE HOURS: 10AM - 8PM
DAYS : MONDAYS - SATURDAYS
SUNDAYS: 1PM - 6PM
CONTACT: STORE PH : 9724799816
CALL/TEXT: CELL PH: 2148750416
STORE WARRANTY: 30 DAYS
AVAILABLE: 1
Reviews