FoodSaver FSFSSL5860-DTC Premium 2-In-1 Automatic Bag-Making Vacuum Sealing System, Silver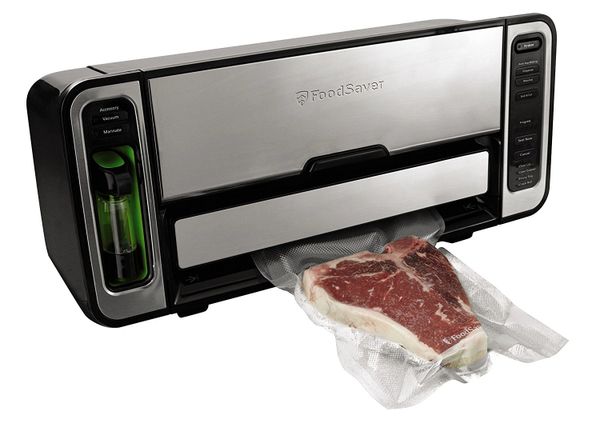 FoodSaver FSFSSL5860-DTC Premium 2-In-1 Automatic Bag-Making Vacuum Sealing System, Silver
"MAXIMIZE YOUR DISCOUNT"
THIS FoodSaver FSFSSL5860-DTC Premium 2-In-1 Automatic Bag-Making Vacuum Sealing System, Silver , IS NEW NEVER BEEN USED. COME'S IN IT'S ORIGINAL BOX.
MSRP: $299.99
Description:
2-in-1 sealing system
Automatic bag dispense and rewind
Automatic bag cut and seal
1-touch marinate and vacuum modes
Indicator lights for quick at a glance troubleshooting
Built-in retractable handheld sealer seals zipper bags, canisters, containers and marinates food in minutes
Pull-out drip tray drawer with patented, removable, dishwasher-safe drip tray
Air-tight heat-seal
Model# FSFSSL5860-DTC
The FoodSaver V5800 Series 2-In-1 Automatic Bag-Making Vacuum Sealing System keeps food fresh up to five times longer and saves up to $2700 per year based on buying in bulk, on sale and preventing waste. The FoodSaver V5800 Series simplifies making custom-sized bags. This innovative appliance dispenses and rewinds bag material from a roll then seals and cuts it to make a bag with just the press of a button. It automatically senses the FoodSaver bag and starts the vacuum sealing process. The FoodSaver vacuum sealing system removes air from specially-designed bags and heat-seals to keep air out. The FoodSaver Marinator also allows you to marinate in minutes instead of hours with its Rapid Marinate Mode. The innovative 5800 Series 2-in-1 Automatic Bag-Making Vacuum Sealing System combines both heat-seal and handheld vacuuming capabilities in one unit — giving you "More Ways to Seal. More Ways to Save."
Dimensions: 9.4"D x 25.7"H x 11.6"W
Weight: 15.4 lbs
"CREDIT CARDS & PAYPAL ARE ACCEPTABLE".
AVAILABLE AT: DEE PEE DISCOUNT STORE: - 580 W Arapaho road suite 298 Richardson TX 75080
TO MAXIMIZE YOUR DISCOUNT VISIT US @ WWW.DEEPEEDISCOUNTSTORE.COM
STORE HOURS: 10AM - 8PM
DAYS : MONDAYS - SATURDAYS
SUNDAYS: 1PM - 6PM
CONTACT: STORE PH : 9724799816
CELL PH: 2148750416
STORE WARRANTY: 30 DAYS
AVAILABLE: 1
Reviews