GE GXSF30V 30,000 Grain Water Softener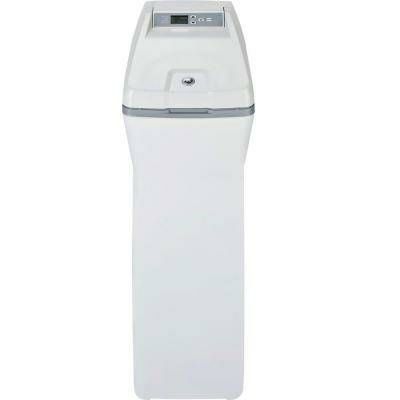 GE GXSF30V 30,000 Grain Water Softener
ALWAYS BELOW HALF PRICE!!!
THIS GE GXSF30V 30,000 Grain Water Softener, IS NEW NEVER BEEN USED. COMES IN ITS ORIGINAL BOX.
MSRP: $459
Description:
The GE 30,000-Grain Water Softener System enhances the quality of water throughout your home for cleaner dishes, less water-heater scale buildup and potential energy savings. It has 95 grains per gallon maximum hardness-removal capacity and it also removes 7 PPM of iron. Handy features include programmable operation and a permanent memory in case the power goes out. This water softener even adapts to your usage patterns to help ensure you have soft water when you need it.
GE water softeners help save on water and energy by using up to 50% less detergent for laundry and dishwashing (Based on research conducted by the Water Quality Association (WQA) water softener benefits study, 2011)
30,000 grain capacity
Efficiency (5100 GPG)
Maximum hardness removal (95 GPG)
Maximum iron removal (7 PPM)
Salt capacity (200 lbs.)
GE exclusive SmartSoft technology ensures there is always plenty of softened water available by learning a family's water-use patterns
GE exclusive days to empty, makes sure you never have to guess when to refill the salt tank
Uses up to 20% less water (based on internal analysis verses GE water softeners manufactured prior to 2009)
Plumbing connection up to 1 in.
Installation services are not an checkout option for this product, delivery only, check with your local store regarding possible installation options.
Color Family: Gray
Features: Alarm,Indicator light(s),Permanent settings memory,Programmable
Quantity (cu. ft.): .834
Includes: Installation kit
Regeneration time (min.): 104
Iron reduction (ppm): 7
Maximum Grain Capacity (grains): 30000
Salt Storage Capacity (lbs.): 200
Maximum hardness removal (grains per gallon): 95
Service Flow Rate @ 15 psi drop (gallons per min.): 7.5
Output between refills (gallons): 3000
Water required for regeneration (gallons): 35.5
Dimensions: 22.44"D x 43.25"H x 14.44"W
Weight: 80 lbs
"CREDIT CARDS & PAYPAL ARE ACCEPTABLE".
AVAILABLE AT: DEE PEE DISCOUNT STORE: - 580 W Arapaho road suite 298 Richardson TX 75080
STORE HOURS: 10AM - 8PM
DAYS : MONDAYS - SATURDAYS
SUNDAYS: 12PM - 6PM
CONTACT: STORE PH : 9724799816
STORE WARRANTY: 30 DAYS
AVAILABLE: 1
Reviews