Glacier Bay N2410EB/N2410T 2-piece 1.0 GPF Single Flush Elongated Toilet in white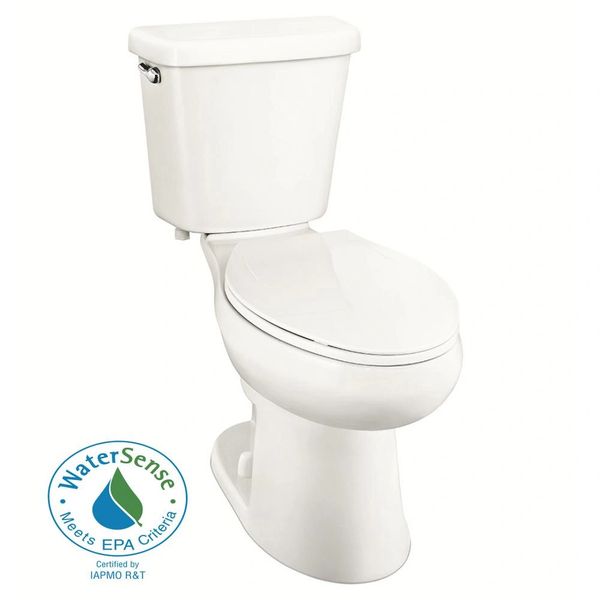 Glacier Bay N2410EB/N2410T 2-piece 1.0 GPF Single Flush Elongated Toilet in white
ALWAYS BELOW HALF PRICE!!!
THIS Glacier Bay N2410EB/N2410T 2-piece 1.0 GPF Single Flush Elongated Toilet in white, IS NEW NEVER BEEN USED. COMES IN ITS ORIGINAL BOX.
MSRP: $109.95
Description:
The Glacier Bay 2-piece Ultra High Efficiency Elongated Toilet in White is manufactured from durable vitreous china, which is resistant to stains, acid and abrasion for long lasting beauty. This 2-piece toilet comes with an elongated chair-height bowl for maximum comfort and has a white porcelain finish that blends with a wide range of bath or powder room decor styles. High-performance with plenty of flush power, this toilet is easy to install and includes a toilet seat, wax ring and floor mounting bolt seat.
16.5 in. chair height meets ADA standards
Features the quick connect easy installation system
High performance bowl design for superior flush performance
All in one packaging includes the toilet seat, wax ring and floor mounting bolt set
Bowl Height: Chair Height
Included: Complete Kit,Handle,Hardware,Seat
Bowl Shape: Elongated
MaP Performance Rating: 800
Material: Vitreous China
Color/Finish: White
Mount Location: Floor Mount
Commercial / Residential: Residential
Features: No Additional Features
Flushing Mechanism: Gravity Flush
Rough In Size: 12
Flushing Technology: Flapper/Piston
Trapway Diameter (in.): 2
Flushing Type: Single Flush
Trip Lever Location: Left Side
Gallons Per Flush: 1.000
Bowl Height without Seat (in.): 16.5
Flush Valve Size (in.): 3
Dimensions: 28.94"D x 31.087"H x 17.05"W
Weight: 79.2 lbs
"CREDIT CARDS & PAYPAL ARE ACCEPTABLE".
AVAILABLE AT: DEE PEE DISCOUNT STORE: - 580 W Arapaho road suite 298 Richardson TX 75080
STORE HOURS: 10AM - 8PM
DAYS : MONDAYS - SATURDAYS
SUNDAYS: 12PM - 6PM
CONTACT: STORE PH : 9724799816
STORE WARRANTY: 30 DAYS
AVAILABLE: 5
Reviews