Hampton Bay120306008-W Ashby White Kitchen Cart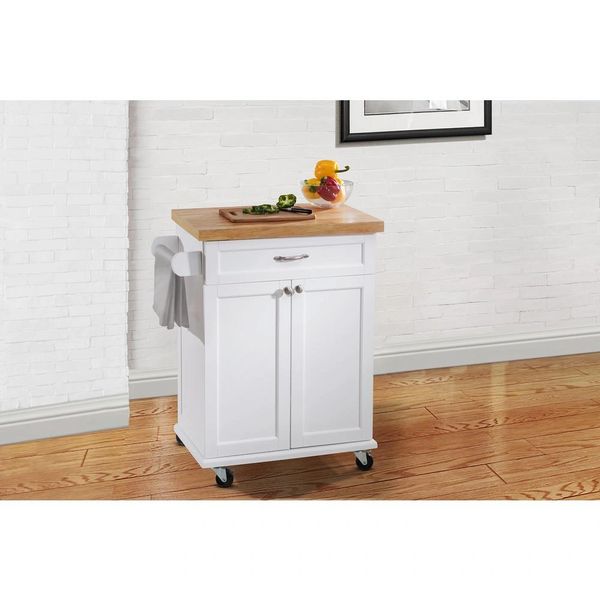 Hampton Bay120306008-W Ashby White Kitchen Cart
"MAXIMIZE YOUR DISCOUNT"
THIS Hampton Bay120306008-W Ashby White Kitchen Cart, IS NEW NEVER BEEN USED. COMES IN ITS ORIGINAL BOX.
MSRP: $149.00 AT HOMEDEPOT
Description:
Clean, simple and versatile, the Sunjoy Ashby Kitchen Cart seamlessly fits into any kitchen interior. Designed to cater to all aspects of the user's needs, storage, portability and additional workspace, this cart is sure to do wonders and bring spruce up your kitchen. Each natural wood top is hand-picked to show only the most beautiful and strongest grains for everlasting experience. Built with multiple types of storage, you can organize your essentials to maximize the efficiency of how your cart is used. Available in 3 colors, white, grey or navy, this cart can cater to all types of interiors, from more neutral, traditional, to those more of contemporary styles, always adding to the beauty of your kitchen space.
Kitchen Cart with 2 Cabinets, 1 Drawer and 1 Towel bar
Interior shelf is height adjustable
Sturdy and durable design
Easy maintenance.
Cabinet Construction: Framed
Cart Type: Kitchen
Color Family: White
Color/Finish: White
Includes: Cabinet,Drawer,Locking Casters,Towel Bar,Wheels
Kitchen Product Type: Kitchen Cart
Number of Doors: 2
Number of Drawers: 1
Number of Exterior Shelves: 0
Number of Interior Shelves: 1
Number of Wheels: 4
Overlay: Partial
Top Material: Other Wood
Dimensions: 18.39"D x 35.59"H x 28.9"L x 18.39"W
"CREDIT CARDS & PAYPAL ARE ACCEPTABLE".
AVAILABLE AT: DEE PEE DISCOUNT STORE: - 580 W Arapaho road suite 298 Richardson TX 75080
STORE HOURS: 10AM - 8PM
DAYS : MONDAYS - SATURDAYS
SUNDAYS: 1PM - 6PM
CONTACT: STORE PH : 9724799816
CALL/TEXT: CELL PH: 2148750416
STORE WARRANTY: 30 DAYS
AVAILABLE: 1
Reviews