Krown K-PPDLD Porta Printer 2000D (LVD)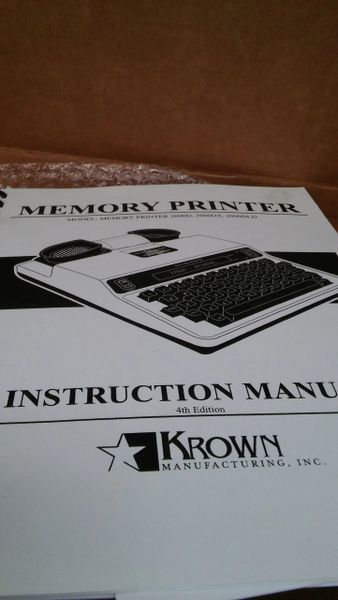 Krown K-PPDLD Porta Printer 2000D (LVD)
"MAXIMIZE YOUR DISCOUNT"
THIS Krown K-PPDLD Porta Printer 2000D (LVD) is a display unit in good working and cosmetic condition.
MSRP: $499
Description:
The MemoryPrinter 2000D (MP2000D) is a TDD that comes with Fast Type for a "real-time" conversation. Fast Type speed goes to 110 baud for a professional typist, or automatically goes back down to 45.5 baud (American standard), if the other TTY doesn't have the same feature.
With interrupt function, conversation with Fast Type will be more natural than the regular Baudot. It's supported by most of States Relay services.
FEATURES:
- 20-character display
- 24-column printer with three print sizes
- Upper and lower case printing
- 32K Memory
- TTY call alert
- Separate on-/off printer switch
- Built-in help menu
- Four message buffers
- Electronic voice
- Keyboard & Memory dialing
- Tone/Pulse dialing mode
- Built-in directory
- Dual modular jacks
- Auto answer
- Remote message retrieval
- Visual display of dial tone, busy and ring
- Built-in clock and calendar
- Interrupt
- Programmable relay number
- Heavy Duty Rechargeable Battery
Note:
- All batteries can run 3-7 hours when fully charged.
Dimensions: 3"D x 13"L x 10"W
"CREDIT CARDS & PAYPAL ARE ACCEPTABLE".
AVAILABLE AT: DEE PEE DISCOUNT STORE: - 580 W Arapaho road suite 298 Richardson TX 75080
TO MAXIMIZE YOUR DISCOUNT VISIT US @ WWW.DEEPEEDISCOUNTSTORE.COM
STORE HOURS: 10AM - 8PM
DAYS : MONDAYS - SATURDAYS
SUNDAYS: 1PM - 6PM
CONTACT: STORE PH : 9724799816
CALL/TEXT: CELL PH: 2148750416
STORE WARRANTY: 30 DAYS
AVAILABLE: 1
Reviews