Magic Chef HMBR350SE1, 3.5 cu. ft. Mini Refrigerator in Stainless Look, Energy Star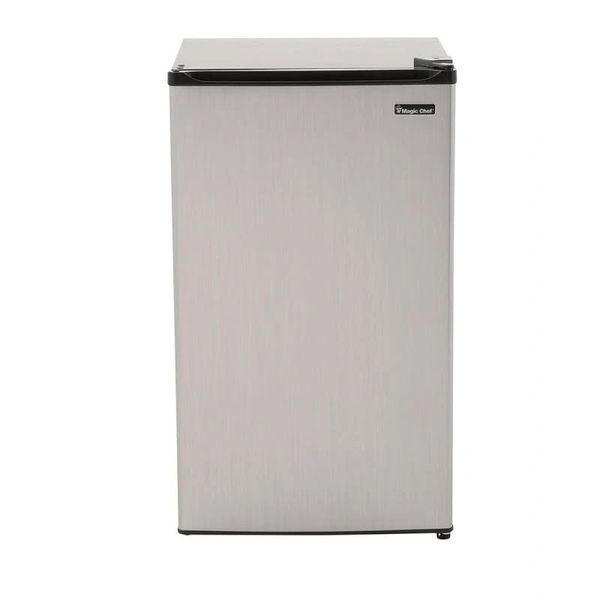 Magic Chef HMBR350SE1, 3.5 cu. ft. Mini Refrigerator in Stainless Look, Energy Star
ALWAYS BELOW HALF PRICE!!!
THIS Magic Chef HMBR350SE1, 3.5 cu. ft. Mini Refrigerator in Stainless Look, Energy Star, IS NEW NEVER BEEN USED. COME'S IN IT'S ORIGINAL BOX.
MSRP: $185.99
Description:
Get wonderful food storage for a compact space with the Magic Chef HMBR350SE1, 3.5 cu ft Refrigerator. Good for offices, dorm rooms, it fits into tight spaces with ease, making it convenient to store food and drink wherever it's needed. The indoor storage shelves on this Magic Chef refrigerator are ideal for small foods and condiments and removable wire shelving allows you to adjust the space and size inside as needed. With an adjustable thermostat control and manual defrost, this 3.5 cu ft compact refrigerator allows to you control the temperature and freshness of your food. You can even store frozen foods in the freezer compartment on the top of the inside and the door can be removed and added to the side that is easiest for you. The legs on this fridge allow it to self level on surfaces that may cause it to tilt or lean. This convenient, easy-to-use appliance will quickly become indispensable in your home or office.
3.5 cu. ft. capacity
In-door storage shelves
Can dispenser
Adjustable thermostat control
Adjustable glass shelves
Freezer compartment
Interior light
Leveling legs
Flush back
Manual defrost
Stainless look
Dimensions: 19.30"L x 20.90"W x 34.10"H
"CREDIT CARDS & PAYPAL ARE ACCEPTABLE".
AVAILABLE AT: DEE PEE DISCOUNT STORE: - 580 W Arapaho road suite 298 Richardson TX 75080
STORE HOURS: 10AM - 8PM
DAYS : MONDAYS - SATURDAYS
SUNDAYS: 12PM - 6PM
CONTACT: STORE PH : 9724799816
STORE WARRANTY: 30 DAYS
AVAILABLE: 1
Reviews