Philips HD9240/34 Avance Collection XL Airfryer - White Airfryer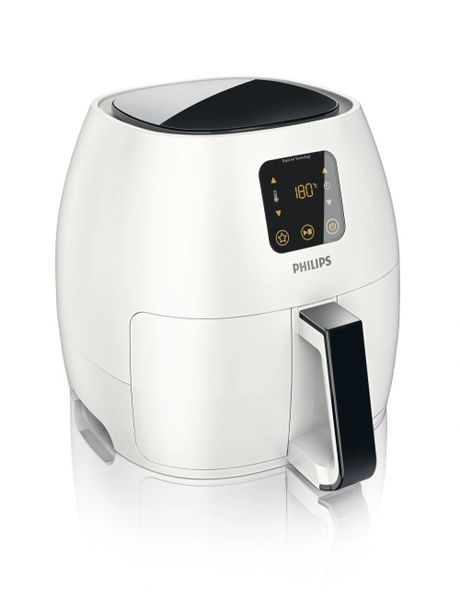 Philips HD9240/34 Avance Collection XL Airfryer - White Airfryer
"MAXIMIZE YOUR DISCOUNT"
THIS Philips HD9240/34 Avance Collection XL Airfryer - White Airfryer, IS NEW NEVER BEEN USED. COME'S IN IT'S ORIGINAL BOX.
MSRP: $399.95
Description:
The Philips Avance Collection Airfryer is a healthier way of frying with up to 75% less fat.This airfryer makes it possible to enjoy healthier version of favorite foods by frying them with a tablespoon or less of oil and draining excess fat during cooking. The unique starfish shape circulates air around the entire unit, heating up to 390° to ensure all food is cooked evenly. Food becomes crispy on the outside and tender on the inside.
The airfryer does more than just fry. It can also grill, roast, steam and even bake the food so to have more quick and easy options when feeding your family or entertaining guests.
Avance Collection Airfryer Features:
Airfryer
Rapid Air Technology
- Circulates Hot Air with Speed
- Precision For Perfect Results with Less Oil
Digital Touch Screen Interface
Adjustable Temperature Control Up to 390°
- Allows to Cook a Variety of Food
60-Minute Timer
- Ready Signal
- Auto Shut-Off
Smart Preset Button
- Memorizes Settings For Your Favorite Food
Dishwasher-Safe Parts
- For Quick & Easy Clean Up
2.65lb Cooking Capacity Basket
Recipe Booklet
- With More Than 30 Delicious Recipes.
Dimensions: 15.2"D x 15.2"H x 15.2"W
Weight: 15.4 lbs
"CREDIT CARDS & PAYPAL ARE ACCEPTABLE".
AVAILABLE AT: DEE PEE DISCOUNT STORE: - 580 W Arapaho road suite 298 Richardson TX 75080
TO MAXIMIZE YOUR DISCOUNT VISIT US @ WWW.DEEPEEDISCOUNTSTORE.COM
STORE HOURS: 10AM - 8PM
DAYS : MONDAYS - SATURDAYS
SUNDAYS: 1PM - 6PM
CONTACT: STORE PH : 9724799816
CELL PH: 2148750416
STORE WARRANTY: 30 DAYS
AVAILABLE: 1
Reviews