Rheem ECOH180DVLP-1 Liquid Propane 9.0 GPM High EF Indoor Tankless Water Heater with Water Savings Setting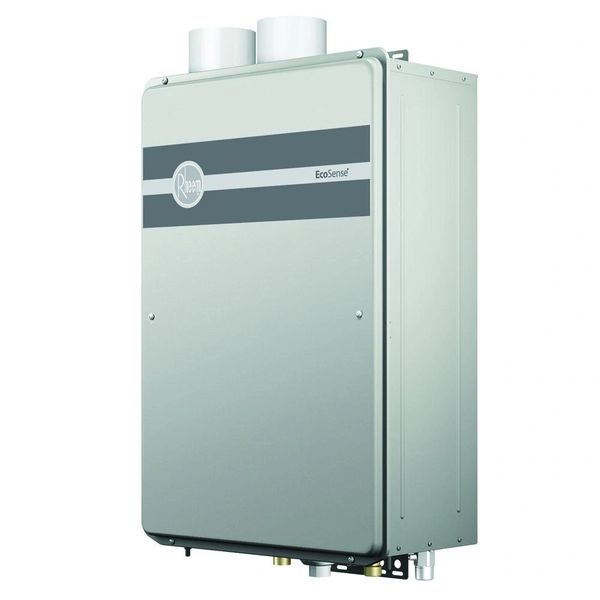 Rheem ECOH180DVLP-1 Liquid Propane 9.0 GPM High EF Indoor Tankless Water Heater with Water Savings Setting
ALWAYS BELOW HALF PRICE!!!
THIS Rheem ECOH180DVLP-1 Liquid Propane 9.0 GPM High EF Indoor Tankless Water Heater with Water Savings Setting, IS NEW NEVER BEEN USED. COME'S IN IT'S ORIGINAL BOX.
MSRP: $1099.00
Description:
Rheem Tankless High Efficiency Water Heaters provide an estimated energy cost savings of $2,808 over 12 years and are federal tax credit eligible. Plus, our exclusive Water Savings Setting can save 1,100 Gal. of water per year. Rheem Tankless Water Heaters are preferred by contractors and designed to get your home enjoying the comfort and convenience of continuous hot water with minimal installation costs.
Continuous hot water: Rheem tankless water heaters heat water when you need it, for as long as you need, and the 9.0 GPM model can provide enough hot water to supply 2-3 bathrooms at the same time (at a 35° temperature rise)
Saves water: save up to 1,100 Gal. of water per year with our exclusive water savings setting
Low flow compatible: works with low flow fixtures thanks to the industry first minimum flow rate of .26 GPM
Saves energy costs: tankless water heaters heat water only when you need it which leads to estimated energy cost savings of $2,808 over 12 years
Tax credit eligible: currently eligible for a federal tax credit of $300, available through December 31, 2016, and check local utility rebates for added savings
Saves space: frees up valuable space within your home with sizes comparable to a medicine cabinet
Perfect for replacement: compatible with standard 1/2 in. gas line making it easier to replace a traditional tank
Saves on installation costs: included components, like the horizontal 3 in. vent termination kit SP20286 and built-in condensate neutralizer, and low-cost PVC venting compatibility help to keep installation costs to a minimum
Easy to maintain: after about a year or a year and a half of water heater use, our maintenance notice setting alerts you with a flashing warning code to call for a regular service check, and our hard water build-up indicator automatically displays service alert in case water heater detects scale build up
Great investment and value: high-quality components and added features backed by a warranty that is longer than standard models for added savings:
A reliable hot water solution from Rheem, the global leader in water heating
Need more hot water for larger homes, look to our higher GPM models or use the EZ-link cable (sold separately) to connect 2 or more tankless units to operate as 1
Recirculation pump kit ready: quickly pairs with our recirculation pump kit (model# RH17920) to provide instantaneous hot water at the tap.
Application Type: Residential
Maximum Temperature (F): 140.0
Electric Product Type: Commercial & Residential
Minimum Activation Rate (gpm): .40
Energy Factor: 0.93
Minimum Temperature (F): 85
Finish Family: Gray
Pilot Light: No
Flow Rate @ 35 F Rise (gallons/min): 9.0 gal (US)/min
Point-Of-Use: No
Flow Rate @ 45 F Rise (gallons/min): 7.5
Flow Rate @ 55 F Rise (gallons/min): 6.1
Flow Rate @ 65 F Rise (gallons/min): 5.2
Total BTU: 180000 Btu
Fuel Type: Gas
Vent Type: Single Wall
Gas Connection Size: 0.75
Water Connection Location: Bottom
Gas Type: Liquid Propane
Water Heater Features: Ultra LoNox,Wall Mountable
Indoor/Outdoor: Indoor
Vent diameter (in.):3
Water Connection Size (in.): 0.75
Dimensions: 9.75"D x 27.5"H x 18.5"W
Weight: 82 lbs
"CREDIT CARDS & PAYPAL ARE ACCEPTABLE".
AVAILABLE AT: DEE PEE DISCOUNT STORE: - 580 W Arapaho road suite 298 Richardson TX 75080
STORE HOURS: 10AM - 8PM
DAYS : MONDAYS - SATURDAYS
SUNDAYS: 12PM - 6PM
CONTACT: STORE PH : 9724799816
STORE WARRANTY: 30 DAYS
AVAILABLE: 1
Reviews