Samsung WE302NG Laundry Pedestal with Storage in Onyx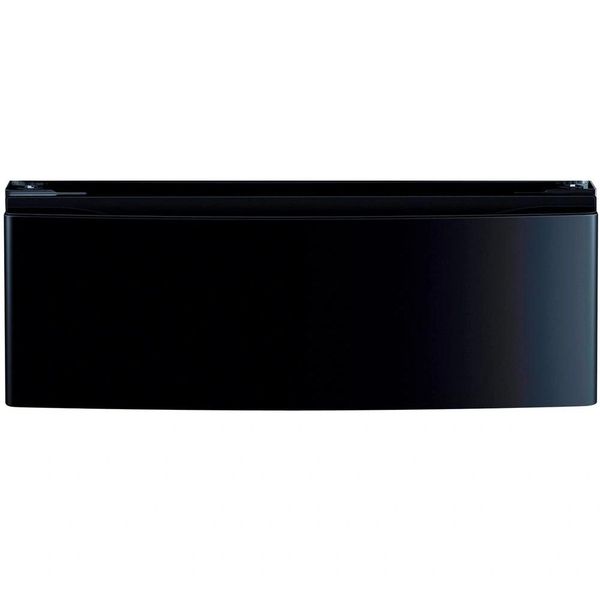 Samsung WE302NG Laundry Pedestal with Storage in Onyx
ALWAYS BELOW HALF PRICE!!!
THIS Samsung WE302NG Laundry Pedestal with Storage in Onyx, OUT OF BOX, USED FOR STORE DISPLAY. MIGHT HAVE DENTS OR SCRATCHES BUT ITS IN A GOOD WORKING AND COSMETICS CONDITION.
MSRP: $329.99
11.8 in. Samsung laundry pedestal with Quick Install and a storage drawer provides easy access to your laundry and can hold up to 26 lbs. The Quick Install saves time by securing the washer/dryer to the pedestal in less than 10 minutes. At 11.8 in. tall, it provides easy, ergonomic access to your washer/dryer and in addition to extra storage. It includes a convenient divider to help organize the space.
Convenient drawer stores all of your laundry supplies
Drawer holds up to 26 lbs.
Removable drawer divider for easy organization
11.8 in. rise height
Color coordinated to match Samsung washers and dryers
A pedestal ordered on its own (without a corresponding washer or dryer purchase on the same order) can be delivered, but cannot be installed by our delivery services staff, even if the option for installation appears in the check-out process. The option for installation is valid only when a pedestal is ordered with a corresponding washer or dryer
Dimensions: 29.6"D x 30"W x 11.8"H
Weight: 59.9 lbs
"CREDIT CARDS & PAYPAL ARE ACCEPTABLE".
AVAILABLE AT: DEE PEE DISCOUNT STORE: - 580 W Arapaho road suite 298 Richardson TX 75080
STORE HOURS: 10AM - 8PM
DAYS : MONDAYS - SATURDAYS
SUNDAYS: 12PM - 6PM
CONTACT: STORE PH : 9724799816
STORE WARRANTY: 30 DAYS
AVAILABLE: 4
Reviews