Skywalker SWJD15P Trampolines 15-Feet Round Trampoline and Enclosure with Spring Pad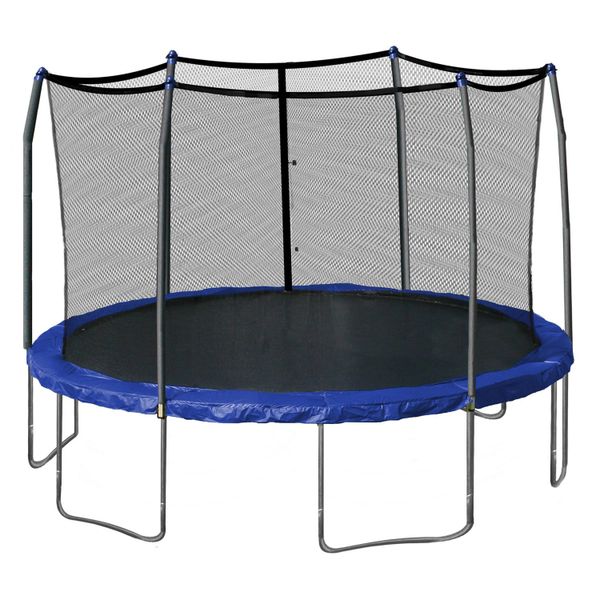 Skywalker SWJD15P Trampolines 15-Feet Round Trampoline and Enclosure with Spring Pad
ALWAYS BELOW HALF PRICE!!!
THIS Skywalker SWJD15P Trampolines 15-Feet Round Trampoline and Enclosure with Spring Pad, IS NEW NEVER BEEN USED. COMES IN ITS ORIGINAL BOX.
MSRP: $498.20
Description:
Plenty of room for backyard jumping fun with the Skywalker Trampolines NEW 15 ft. Round Trampoline and Enclosure. This 15 ft. Trampoline and enclosure combo will keep your children both entertained and active. The trampoline and enclosure features a frame assembly that uses heavy gauged rust resistant galvanized steel using T-sockets at each trampoline and enclosure joint to create a secure and uni-bodied frame. The unique Stay-Put enclosure uses a gap free design attaching the enclosure netting directly to the jump mat v-rings using a 'button-hole' feature with no ropes to thread. All materials are made with durable UV protected material for increased weather resistance.
Reinforced T-sockets stabilize the upper enclosure frame to the trampoline frame and prevents structural twisting
Stay-put enclosure net interlocks to the jumping mat by using a patented button-hole feature attaching the enclosure netting to the jumping surface at each V-ring eliminating gaps
Frame constructed of heavy gauge galvanized rust resistant steel with total of 6 W-shaped legs for added stablilty
Assembled Dimensions: 15 ft X 15 ft X 9.5 ft.
Recommended for ages 6 and above with a 200 lb. weight capacity
NOTE: Item comes in 2 boxes
"CREDIT CARDS & PAYPAL ARE ACCEPTABLE".
AVAILABLE AT: DEE PEE DISCOUNT STORE: - 580 W Arapaho road suite 298 Richardson TX 75080
STORE HOURS: 10AM - 8PM
DAYS : MONDAYS - SATURDAYS
SUNDAYS: 12PM - 6PM
CONTACT: STORE PH : 9724799816
STORE WARRANTY: 30 DAYS
AVAILABLE: 2
Reviews