Sony XBR55X850C 55-Inch 4K Ultra HD 3D Smart LED TV (2015 Model)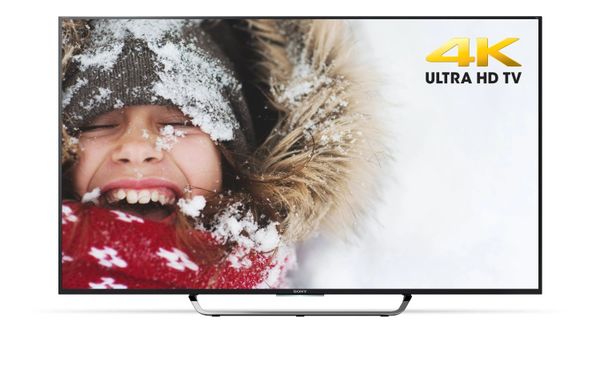 Sony XBR55X850C 55-Inch 4K Ultra HD 3D Smart LED TV (2015 Model)
ALWAYS BELOW HALF PRICE!!!
THIS Sony XBR55X850C 55-Inch 4K Ultra HD 3D Smart LED TV (2015 Model), IS NEW NEVER BEEN USED. AN OPEN BOX, IN SONY BOX.
MSRP: $1169.87
DESCRIPTION:
Step up to an Android TV with four times more clarity than HD and expanded color. Everything you watch -- sports, TV shows, movies -- is upscaled for 4K Ultra HD viewing. Even 4K streaming is enhanced to maximize picture quality. For the ultimate smart TV experience, cast your favorite entertainment apps using Google Cast.
Note: You must have a source of HD programming in order to take full advantage of the Sony 55" LED HDTV. Contact your local cable or satellite TV provider for details on how to upgrade.
Step up to four times more clarity than HD, expanded color and Android TV. Everything you watch-sports, TV shows, movies-is upscaled for 4K Ultra HD viewing. Even 4K streaming is enhanced to maximize picture quality. Android TV adds Google Cast, voice search and a huge collection of apps, games and content from Google Play.
Leading 4K picture quality - Experience matters. Sony launched expanded color in 2013, expanded brightness range in 2014, and has been upscaling to 4K for over 10 years. As other manufacturers start implementing these capabilities, Sony takes another step forward improving color accuracy and clarity of HD and 4K video in the X850C. See the difference experience makes.
Every color comes alive - All the colors you dream of can now be seen on your Sony TV with TRILUMOS Display, including hard-to-reproduce shades of red, green and aqua blue. Colors come alive on the screen in the widest color range ever, and dynamic color correction ensures colors are as consistent and accurate as possible every single time.
Upscale everything you watch to 4K Ultra HD - Whatever you're watching, watch it in 4K. All of your existing HD sports, TV shows and movies are upscaled to super clear 4K quality. Our most advanced 4K X-Reality PRO upscaling is developed from Sony's 10+ years of experience upscaling to 4K, exceeding all other TV brands.
A smarter TV - The familiarity of Android comes to the biggest screen in your home, and it's so much more than just 'Smart TV.' It is apps, games, casting, voice search, and personalization powered by Android TV.
4K streaming at its best - For those who desire the best 4K streaming experience, Sony 4K TVs are specifically engineered to recognize and improve 4K streaming video. 4K Streaming services like Netflix and Amazon Instant Video offer expansive libraries of movies and original TV series in 4K Ultra HD with ultimate convenience.
More apps - The things you love doing on your tablet or smartphone can now be enjoyed on your TV. Log into your Google account once to access a huge collection of apps, games and content from Google Play.
Just say what you want - Say "action movies" or "today's weather" and let Android TV do the work. Voice search helps you quickly find what you want. Simply speak into the One-Flick remote or your compatible mobile phone.
Google Cast ready - Google Cast is like having Chromecast built into the TV. Cast your favorite entertainment apps, including HBO GO, Showtime Anywhere, MLB.tv and more, from your Android or iOS device, Mac or Windows computer, or Chromebook to the TV.
Your personalized TV - Personalized content recommendations from Google Play, YouTube and supported apps appear automatically in your home screen.
Stream PS3 games directly to your TV - Bring the immersive world of PlayStation directly to your TV with PlayStation Now. Play select PlayStation 3 games like you stream TV shows and movies - streamed directly to your TV. Connect a DUALSHOCK 4 controller to your TV and choose from a variety of game rental periods.
So much to see in 4K - Hundreds of movies and TV shows are available from the top 4K service providers, including Netflix, Amazon Instant Video, YouTube, DirecTV video on demand and more.
FESTURES:
Aspect Ratio: 16:9
Backlight Type: Edge LED
Color: Black
Is Remote Control Included: Y
Resolution: 4K UHD , HDTV
Color Category: Black
Connector Type: 1 x Component/Composite Video, 1 x Composite Video, 1 x Digital Audio, 1 x Ethernet, 4 x HDMI, 2 x Headphone, 2 x RCA Audio L+R, 1 x RF (Coaxial), 1 x RS-232C, 1 x Subwoofer, 3 x USB 2.0
Has Integrated Speakers: Y
Dimensions: 48.6"W x 28.1"H x 2.4"D
Weight: 47 lbs
"CREDIT CARDS & PAYPAL ARE ACCEPTABLE".
AVAILABLE AT: DEE PEE DISCOUNT STORE: - 580 W Arapaho road suite 298 Richardson TX 75080
STORE HOURS: 10AM - 8PM
DAYS : MONDAYS - SATURDAYS
SUNDAYS: 12PM - 6PM
CONTACT: STORE PH : 9724799816
STORE WARRANTY: 30 DAYS
AVAILABLE: 1
Reviews