Tribest GSE-5050 Greenstar Elite Cold Press Complete Masticating Juicer, Juice Extractor with Jumbo Twin Gears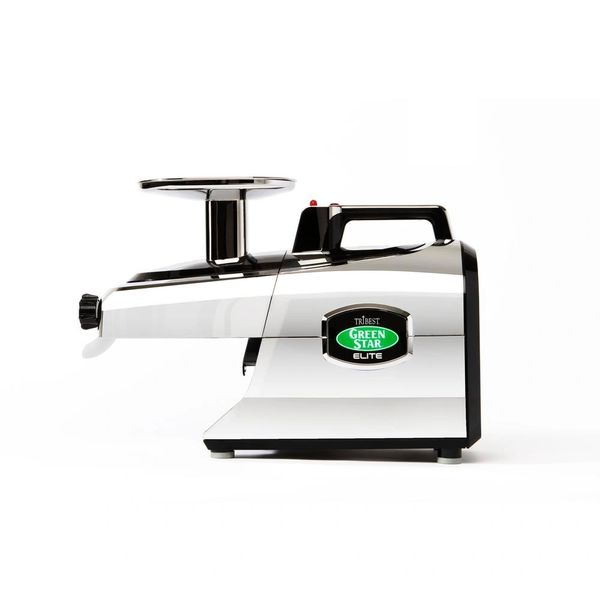 Tribest GSE-5050 Greenstar Elite Cold Press Complete Masticating Juicer, Juice Extractor with Jumbo Twin Gears
"MAXIMIZE YOUR DISCOUNT"
THIS Tribest GSE-5050 Greenstar Elite Cold Press Complete Masticating Juicer, Juice Extractor with Jumbo Twin Gears, Chrome, IS NEW NEVER BEEN USED. COME'S IN IT'S ORIGINAL BOX.
MSRP: $511.01
Description:
Greenstar machines are reputably regarded as one of the world's best juice extractors and most efficient food processors. Using Exclusive Jumbo Twin Gear technology with a low 110 RPM, ease of use and simple clean up, our Greenstar Juice Extractors and Food Processors are award-winning machines of unsurpassed quality. Independent laboratory tests confirm that the Greenstar's Twin Gear Press extracts a substantially higher quantity of minerals than "leading" juicers. Concentrations of essential minerals, like calcium, iron and zinc are 50%-200% higher in juice from the Greenstar than from other name brands juicers. Additionally, the Greenstar Elite yields 15-20% more juice when compared to other leading juicers. Now, your commitment to drinking cold-pressed juice can really begin to pay off.
evolutionary 3-stage complete mastication system
Exclusive magnetic and bio ceramic technology prevents oxidation
Pocket recesses and cutting points allow for easy processing or hard vegetables, preventing clogging or jamming
Unique nylon safety buffer to prevent steel shavings from inadvertently entering your juice
Safety switch system disables operation to prevent accidents.
Color/Finish: Chrome
Kitchen Product Type: Juicers
Material: Plastic
Number of Cups: 0
Number of Pieces: 7
Dimensions: 6.8"D x 18.6"H x 12.4"W
Weight: 17.2 lbs
"CREDIT CARDS & PAYPAL ARE ACCEPTABLE".
AVAILABLE AT: DEE PEE DISCOUNT STORE: - 580 W Arapaho road suite 298 Richardson TX 75080
TO MAXIMIZE YOUR DISCOUNT VISIT US @ WWW.DEEPEEDISCOUNTSTORE.COM
STORE HOURS: 10AM - 8PM
DAYS : MONDAYS - SATURDAYS
SUNDAYS: 1PM - 6PM
CONTACT: STORE PH : 9724799816
CALL/TEXT: CELL PH: 2148750416
STORE WARRANTY: 30 DAYS
AVAILABLE: 1
Reviews