True Fitness 500 HRC SERIES Soft System Treadmill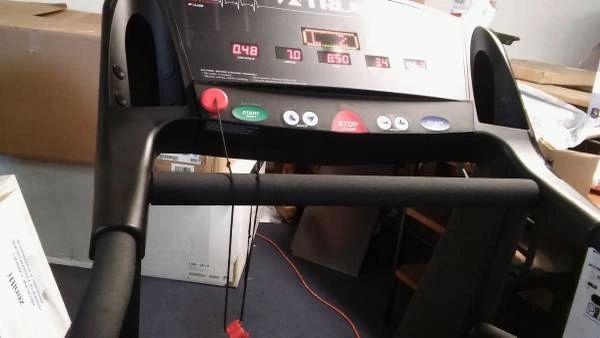 True Fitness 500 HRC SERIES Soft System Treadmill
NO SHIPPING STORE PICK UP ONLY!!!
"MAXIMIZE YOUR DISCOUNT"
THIS True Fitness 500 HRC SERIES Soft System Treadmill, IS USED IN EXCELLENT WORKING AND COSMETIC CONDITION.
MSRP: $2999.00
Description:
You have chosen a premium piece of exercise equipment designed to meet your fitness needs for a lifetime.
You are now the owner of the most sophisticated Heart Rate Control treadmill available. The TRUE HRC is unique and patented. It accommodates users from rehabilitation to world class athletes, and all those in between. The TRUE HRC treadmill allows you to do a completely hands free heart rate controlled workout using speed, grade or both. By training at a specific target heart rate, you can exercise at a more efficient cardiovascular level. The TRUE HRC system is unique because you must enter the key parameters of your workout; target heart rate, maximum speed, maximum grade, and time, prior to beginning your HRC workout. As you approach your target heart rate, the treadmill's computer takes over and changes the speed and/or grade automatically to keep you near your target heart rate. This gives you a completely "hands free"
workout.
THE TRUE S.O.F.T. SYSTEM IS A DIFFERENCE YOU CAN FEEL:
True's unique S.O.F. T. System is the most advanced shock-absorbing system available.
It cushions the initial impact and then transitions to a firm, secure surface for push-off providing lateral stability throughout, eliminating deck shift from side to side. The benefit is less stress on the ankles, knees, hips and back.
ADJUST THE FEEL WITH S.O.F.T. SELECT.
All True S.O.F. T. Select series treadmills take the user to a new level of comfort. Now you can "personalize" the treadbelt surface to suit your walking or running needs, from soft to firm or anywhere in between. This True feature is ideal for users of differing
weights or those with special physical needs.Simply slide the S.O.F. T. Select control knob to the desired setting.
ELECTRONIC ADJUSTMENT (500/550 CI)
You electronically adjust the settings on the 500/550 CI models on the control panel. The display will indicate the level from 1-1 2. With 1 being the softest and 12 being the firmest. This special feature makes it even quicker and easier to meet your changing workout
needs. A total of 50 changes can be made to speed and/or grade in a user program. One speed and grade change per 30 second time block ie: (0-:30, :30-1:00, 1:00-1:30) can be made.
MADE IN U.S.A
AVAILABLE AT: DEE PEE DISCOUNT STORE: - 580 W Arapaho road suite 298 Richardson TX 75080
TO MAXIMIZE YOUR DISCOUNT VISIT US @ WWW.DEEPEEDISCOUNTSTORE.COM
STORE HOURS: 10AM - 8PM
DAYS : MONDAYS - SATURDAYS
SUNDAYS: 1PM - 6PM
CONTACT: STORE PH : 9724799816
STORE WARRANTY: 30 DAYS
AVAILABLE: 1
Reviews