Weber 7260001 Summit S-460 4-Burner Built-In Natural Gas Grill in Stainless Steel with Grill Cover and Built-In Thermometer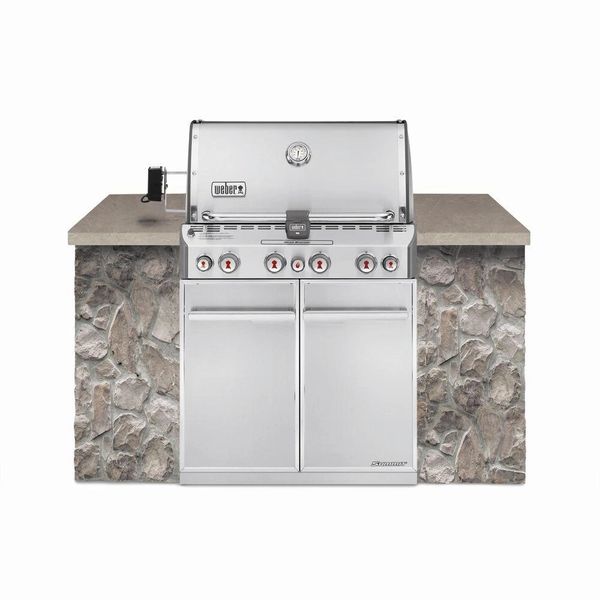 Weber 7260001 Summit S-460 4-Burner Built-In Natural Gas Grill in Stainless Steel with Grill Cover and Built-In Thermometer
"MAXIMIZE YOUR DISCOUNT"
THIS Weber 7260001 Summit S-460 4-Burner Built-In Natural Gas Grill in Stainless Steel with Grill Cover and Built-In Thermometer, IS NEW NEVER BEEN USED. COME'S IN IT'S ORIGINAL BOX.
MSRP: $2099.00
Description:
Weber continues its pioneering ways with a built-in 4-burner island grill that you simply wheel into place. This stainless steel natural gas beauty sits on heavy duty casters that enable the whole unit to slide into a carved-out station in your outdoor kitchen island. Once in position, engage the locking mechanisms on the front casters and install the stainless steel front-alignment panel to conceal the moving parts. Voila. This user-friendly feature enables hassle-free extractions any time the grill needs servicing. The Weber Summit S-460 features a rotisserie motor and rear-mounted infrared burner for slow-cooking, a central sear-station burner for intense-heat grilling, an integrated wood-smoker box with independent burner to morph your grill into a smokehouse and four stainless steel burners capable of 48,800 BTUs for everyday grilling.
California residents: see Proposition 65 information
Island cutout dimensions: 34 in. W x 24-5/16 in. D x 36 in. H (1/4 in. tolerance on width and depth; no height tolerance)
Equipped with 4 stainless steel main burners, 1 infrared rotisserie burner, 1 sear-station burner and 1 smoker burner
Each main burner supplies up to 12,200 BTUs per-hour input; infrared rotisserie burner = 10,600 BTUs; sear-station burner = 10,600 BTUs; smoker burner = 6,800 BTUs
Includes 2 stainless steel cooking grates with 9 mm rods that readily distribute and retain heat
Main grilling platform offers 468 sq. in. of cooking space, with another 112 sq. in. on the upper warming rack (580 sq. in. total)
Each burner has a separate snap-jet igniter that lights on command
Engage any or all of the burners in any desired combination for direct or indirect cooking
Built-in lid thermometer enables precise heat management
Includes frame and 2 stainless steel cabinet doors
Rotisserie motor, spit, bracket and 2-pronged fork included
Includes 1 integrated wood smoker box with hinged, vented lid and 1 grill out handle light
Premium cover included
Island not included
Assembly Required: Yes
Color: Stainless steel
Color Family: Stainless
Grill Assembly: Full Assembly Required
Grill Color Family: Stainless Steel
Grill Grate/Surface Material: Stainless Steel
Grill Material: Stainless Steel
Grill/Smoker Category: Built-In
Grill/Smoker Features: Enclosed Cabinet,Grease Pan,Grill Cover,Grill Light,Heat Thermometer,Rotisserie,Warming Rack
Grill/Smoker Fuel Type:Natural Gas
Ignition Type: Continuous Spark
Number of Burners: 4
Number of Side Burners: 0
Outdoor Living Product Type: Built-in Grills
Cutout Depth (in.): 24.3125 in
Cutout Height (in.): 36 in
Cutout Width (in.): 34 in
Cooking space (sq. in.): 580
Dimensions: 31"D x 58"H x 34"W
Weight: 245 lbs
"CREDIT CARDS & PAYPAL ARE ACCEPTABLE".
AVAILABLE AT: DEE PEE DISCOUNT STORE: - 580 W Arapaho road suite 298 Richardson TX 75080
STORE HOURS: 10AM - 8PM
DAYS : MONDAYS - SATURDAYS
SUNDAYS: 1PM - 6PM
CONTACT: STORE PH : 9724799816
STORE WARRANTY: 30 DAYS
AVAILABLE: 1
Reviews